Meet the key members of the BCM Scaffolding Services team.
John Horton
Chief Executive
John started in the construction supply industry in 1989 with Hewden Stuart Plant hire before moving into access and temporary works supply in 1999 with SGB.
John has been involved with many of the most iconic buildings on London's skyline including London 2012 Aquatics Centre, Athletes Village, The Shard and The Gherkin.
During John's career he has held positions as both a Regional Director and a National Director – his responsibilities in these roles have given John a complete understanding of supply to construction, from building excavation to topping out.
John believes in collaboration, transparency, innovation and best practice along with "working safe".
John lives in Essex and spends his time away from construction heavily involved in track cycling, coaching and, when time allows, winter sports.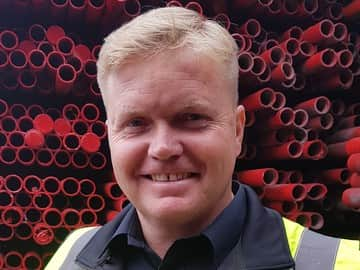 Phil Ellis
Operations Manager
Phil has a career in operations management for large construction and manufacturing companies, and decided to join BCM Scaffolding Services as he had always wanted to work for an entrepreneurial business to apply his skills and experiences to that environment.  Phil is highly qualified in relevant areas including:  IOSH, Leadership Psychology, LEAN training (6 SIGMA), Continuous Improvement, Managing by Objectives, ATEX and Asbestos Awareness, and many others. Phil is responsible for the completion of our client projects ensuring our scaffold and management teams deliver excellence at all stages of the project.  He also manages the yard, logistics and transport functions in the company.
When not working, Phil loves coaching sport, particularly  youth boxing and adults and youth football.  He is also a keen cyclist.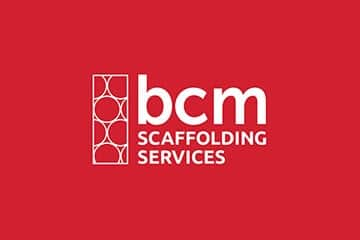 Estimator/Business Developer
To be appointed soon ….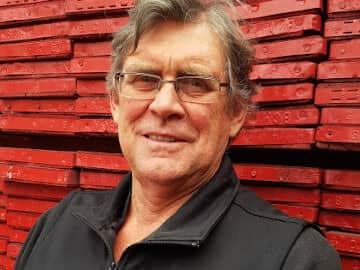 David Hayde
Commercial Manager (Interim)
David is responsible for all commercial activity within BCM. He looks after the commercial side of projects and completes monthly applications for payment, whilst helping to ensure the company operates in a way that delivers consistent excellence to clients. David is highly qualified and is a Fellow Chartered Accountant and Fellow Management Accountant.
When he's not in the office, David can often be found working on his allotment, completing handyman jobs at home or studying Genealogy. Family time is a top priority for David too.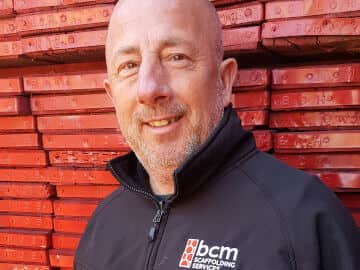 Dion Penman
Site Support Manager
Dion works closely with clients to ensure excellence is delivered on all projects. To do this, he develops strong working relationships with clients, liaises with client site staff, and carefully manages resources and teams. Dion's a natural problem solver and uses his initiative to ensure that projects run smoothly and clients have the support they need.
Dion comes from a family of scaffolders – both his father and grandfather were in the industry. He followed suit, and is now a highly qualified scaffolder. He holds a Gold CISRS Scaffolding Supervisor card, is a temporary works coordinator, an advanced scaffold inspector, and has completed SMSTS and IOSH training.
As a former professional skateboarder, outside of work, Dion loves travelling the world with his board, getting fit at the gym or doing boxing, and spending time with his family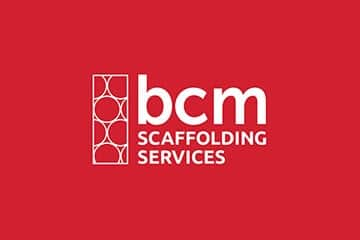 Site Support Manager
To be appointed soon ….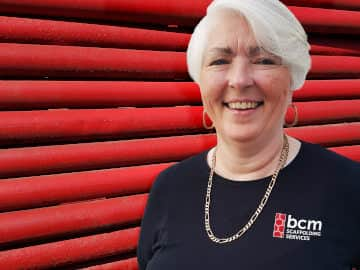 Kathy Panzavechia
Finance Manager
Kathy looks after all things financial. Her role involves monthly reporting, dealing with wages, liaising with HMRC and creditors, completing regular returns, and much more. She holds an accounting technician qualification and has been in this field for most of her working life. Kathy loves her job and approaches each day with a positive outlook, tackling the challenges this busy position brings.
Outside of finance, Kathy's other love is art – both buying it and creating it. She enjoys attending art galleries, painting by numbers, and the occasional crossword.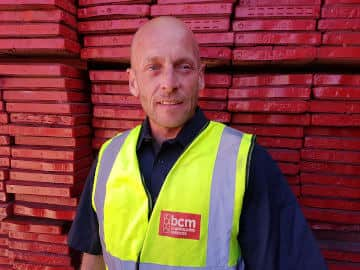 Steve Holmes
Yard Manager
Steve manages all activity at the BCM yard and supervises staff. He is responsible for ensuring the correct kit reaches the scaffolders on site, managing logistics so that everyone can work productively on their various projects. Steve is a qualified welder of mild steel, stainless steel and aluminium.
Steve's job is very demanding. No two days are the same for him, and there's no such thing as a typical working pattern. This is why he loves what he does – though he also enjoys taking a well-earned rest when he's not at work.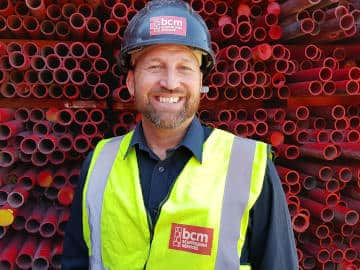 Thomas (Tommy) Gibbs
Scaffold Inspection Manager
Tommy has worked as a scaffolder for BCM Scaffolding Services for almost 30 years.  He is highly qualified as an Advanced Scaffolder, Advanced Scaffold Inspector, and has many other relevant certificates.  Tommy is responsible for undertaking weekly inspections of all our client sites to ensure we are working at the highest level of scaffold and construction site health and safety.  Scaffolding is in Tom's blood as his father, grandfather and uncle were all scaffolders.  He loves the closeness of the people in the industry, the banter, and the pride he feels when he's finished a piece of work.  Tommy is now enjoying being 'off the tools' and working as a Scaffold Inspector.
When not at work, Tommy is a keen snow skier; he also loves fishing off his boat and family time.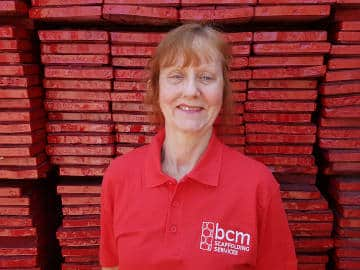 Marion McGarvey
Office Manager/Contracts Administrator
Marion supports our operations teams to ensure we complete our projects as required by our clients.  She works closely with Phil, our Operations Manager and his team in the yard and on site.  As well, Marion is the company's Office Manager, managing all administrative functions to ensure the business runs smoothly.  Marion is 'on the go' all day in her role. She likes with a team of people, and the varied nature of her role, including the daily liaison with all sorts of people.
In her private life, Marion enjoys spending time with family (including two young grandchildren), socialising with friends, and caring for her elderly mother.