BCM Scaffolding Services is a well-recognised, highly respected name associated with scaffolding in London.
At BCM Scaffolding Services we have years of knowledge and experience as well as a clear set of values that shape everything we do. This makes us one of the top choices for those seeking a scaffolding contractor and our clients know they will get excellent service from us. We work to provide a fully personalised service as we understand that no two projects will be the same, and our team have close working relationships with clients. Whether you need support with design, you want to talk to a senior estimator about a tender, or you need a long-term scaffolding contractor with large capacity that you can rely on, we can deliver.

More than 150 years of experience Our management staff have more than 150 years of knowledge between them. We are a leading name in scaffolding and have an excellent industry reputation.

A large capacity for commercial work We have a dedicated scaffolding yard based in Camberwell, with scaffolding ready and waiting to go. This gives us the capacity to deal with large commercial projects of any scope.

Elegant scaffolding solutions The scaffolding we supply and erect is installed neatly, carefully and, above all, safely. Our scaffolding solutions are just the kind you want associated with your commercial construction project.

We own our scaffolding 'stock' Our equipment is all ours, and we own a fleet of vehicles too. This keeps costs down compared to companies that hire scaffolding, and we can offer quicker, more proactive responses.
Fully transparent pricing Our pricing structures are set in stone and we are happy to provide you with our price lists. This makes our pricing structures easy to understand and completely transparent. You know exactly what you are paying.

Health & Safety A core part of our scaffolding practices, processes and everything we do, safety is key to achieving the best possible results without putting anyone at risk.

We are proud to be part of the Safe Rise Scaffolding Group. All member companies are committed to achieving excellence through collaboration, harnessing the knowledge of every team member and sharing resources. BCM Scaffolding Services is built on solid foundations.
COMMERCIAL SCAFFOLDING IN LONDON – OUR SPECIALISM
 We are specialists in commercial scaffolding in London, working on:
New builds – large residential and commercial projects
Refurbishments (public and private sectors, working for councils)
Utilities upgrades
Bespoke projects
We can take on work of any size and scope. Ask us to tender for your project.
We are well regarded, highly successful scaffolding contractors in London. Our work on large commercial projects is respected in the industry for being elegant and purposeful and we have many clients who select us as their chosen scaffolding contractors on a large portfolio of projects.
You can see examples of our work by looking through our case studies. These give you details of the work undertaken, and how we met our clients' requirements.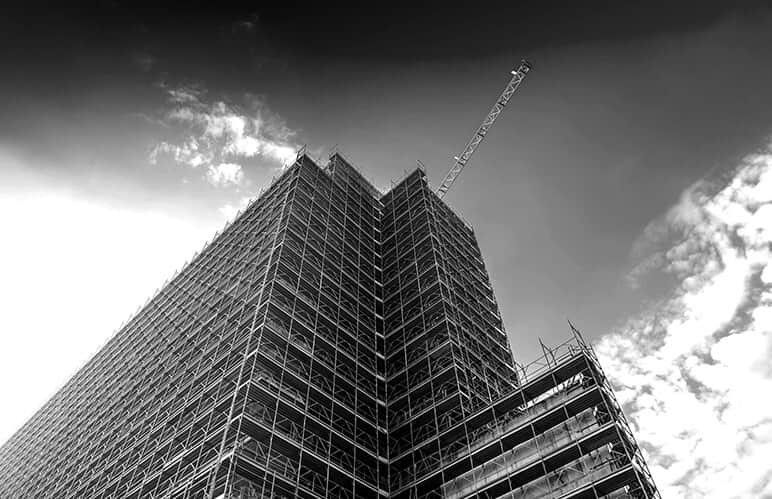 Our services
We offer the complete scaffolding service, from erection to strike down. Find out more about our scaffolding services.
Contact BCM Scaffolding Services to discuss your complete, personalised scaffolding service. Call us on 020 7252 4688 or email hello@bcmscaffolding.co.uk. We can respond quickly and proactively, meeting you in person where required.